(The  order follows the screening schedule)
Ella y él (She and He).  Carmen Blanco.  Spain. 2016. 2:05 min.
Funky Lola. Julio Mas Alcaraz. Spain. 2017. 16min.
Areka. Axtur Animazio Taldea. Basque. 2017. 7:20min.
Euxebi's father was killed during the war. In his youth Euxebi suffered Franco's repression, and despite the fact that the dictatorship ended long ago, until today he has not had the opportunity to recover the memory of his father. After many years looking for him, when they finally open the pit where he is, Euxebe deposits a photo next to his bones.
Mai. Marta González. Catalonia. 2017. 7:14min.
Sucs, year 2017. Carmeta, Mari and Pilar are three ladies who spend the afternoon at the corner bench every day. The arrival of a mysterious couple of girls in the village becomes the main topic of conversation between the three friends. From their strategic location, they greet the strollers as they debate the origin, age and lifestyle of the newcomers. The conversation will change course when the protagonists uncover certain events of their past that they have not been able to forget.
Eclipse. Santi Planet. Spain. 2016. 10min.
A little girl and her grandmother set out to witness the event of the century: a total eclipse of the sun. All the precautionary measures are few to observe it, but the background of the story goes further because, sometimes, the mind is also eclipsed by a disease which can erase all its memories. This short film is about the first symptoms of Alzheimer's disease represented through the relationship between a grandmother and her granddaughter, with a total eclipse of the sun as a symbolic core of the story.
La habitación de las estrellas (The room of the stars). Ilune Díaz. Spain. 2017. 16:12 min.
Elena, 7 years old, is going for the first time to his grandmother's house after years without seeing her. Asunción, old and touched by Alzheimer's, entrusted Elena with the complex task of bringing the stars, those, she says, are hidden around the house.
Fifi Patelito Goes to the DMV. Salvador Bolívar. USA. 2016. 15min.
Tango Dreams. Steven Salgado. Peru/USA. 2016 10min.
Tango Dreams tells the story of a 70-year-old man who wants to learn to dance tango to make dreams come true for his 70-year-old fiancée for their wedding night, but on the way we all discover the value of dreams.
Arriba.  Adrian R. Hartill. Peru. 8:17min.
From the radio cabin 'Yuyay Estéreo', Jose Carlos's voice accompanies his family and neighbor's daily routine: thousands of people beholding an economic growth they don't belong to, in a middle of a city full of dreams and contradictions, voraciously raising under their feet.
La mora y el cocuyo (The Blackberry and the Firebeatle). Isaías Pérez. Venezuela. 2017. 10min.
A fire beetle that was flying for a long time grew tired, so he landed and decided to rest, while he was sleeping a beautiful chant woke him up. There he found an old blackberry that treated him with love and care and asked him to marry her. But the fire beetle viciously rejected her for being old and withered. Many moons passed and they met again, but the blackberry was not the same.
Panorama. Virginia Urreiztieta. Venezuela. 2016. 19:52min.
Dazed by her mother's death, Hanali (9) travels with her father to a remote town where she meets Rosa, a mother who recently lost her child. Under the weight of their grief, delusion takes hold – pulling the two together as they seek to find what they've lost.
Tamara (LGBTQ). Elia Schneider. Venezuela. 2016. 110 min.
Elia Schneider's latest lm tells the remarkable real life story of Tamara Adrian, Venezuela's rst transgender person elected
to that country's National Assembly. Product of a conservative family, Adrian harbored strong feelings of identifying as female from a young age. When Tomas nally decides to become Tamara, she takes on a prejudiced state system that refuses to accept her new identity, making life virtually impossible to her. Undeterred, she ghts back, becoming one of Venezuela's top LGBTQ and women's rights activists. "Tamara" is more than a traditional biopic; it confronts head-on a country's trans-phobia as it celebrates the courage of a community unafraid to ght for its rights. Winner of the Nueva Vision Award for Spanish/Latin American Cinema at the Santa Barbara International Film Festival.
Los Fabulosos Ma' Mejores. Carlos Manuel Plasencia. Dominican Republic. 2015. 80 min.
La mentada de la Llorona. Colectivo Mujeres en Espiral. Mexico. 2016. 27 min.
La Mentada de la Llorona is a documentary about twenty women incarcerated with sentences ranging from 5 to 25 years in the Federal Center for Social Readaptation (Cefereso) of Santa Martha Acatitla. The film, written and edited by the prisoners themselves, was made with the support of the Women in Spiral Project, from the Faculty of Philosophy and Letters of the UNAM. Its main end is to adress a justice system that acts without previous inquiries, without defending the principle of innocence, and where social class is a crucial factor when it comes to imposing sentences upon citizens.
3 variaciones de Ofelia (3 Variations on Ofelia). Paulo Riqué. Mexico, 2015. 15 min.
Never, no-one, nothing… Never.
Luces brillantes (Shine a Light).  Alejandro Gerber Bicecci.  Mexico. 2015. 13 min.
Misterious luminous objects appear each night at San Andres beach. Thomas will discover it´s origin and the relationship those objects have with his own family.
Sob​ ​Á​guas​ ​Claras​ ​e​ ​Inocentes (Under​ ​Clear​ ​and​ ​Innocent​ ​Waters). Emiliano Cunha. Brazil. 2016. 18min.
The last hours of a person in a city that no longer accepts him. Lonely and irrelevant, the subject says goodbye to his beloved ones, while rebuilds his identity, finding redemption and a rebirth when, free at last, dives into clear and innocent waters. A letter to our mother nation on her deathbed.
Piscina (Pool). (LGBTQ) Leandro Goddinho. Brasil/Germany 2016. 30 min. 
On a quest to understand her grandmother's past, Claudia meets Marlene, an old woman who's created an homage to her memories inside an empty pool.
Natural Phenomena (Fenómenos Naturales). Marcos Antonio Díaz Sosa. Cuba. 2016. 15min.
In 1988, Cuba, during a qualifying Skeet Shooting competition to choose the Cuban represent for the upcoming World Cup, there is an amateur nurse with no technique, but she has a supernatural shot and she is ahead in the competition. In a decisive turn, the mysterious nurse loses consciousness.
Bateria (Batería) (LGBTQ). Damián Sainz. Cuba. 2016. 15min.
The ruins of an ancient military fortress outside Havana have become a clandestine gay cruising spot. The old walls and the rubbles give shelter not only to Cuban male homosexuals, but also to a culture of resistance and socialization.
Night House (Casa de la noche). Cuba.  2016. 13min.
Nocturnal Havana, a city rooted in the souls of its inhabitants. Night house offers a utopian vision, inspired by the city and everything it stands for, by preparing celluloid and letting it disintegrate.
Duel (Duelo) Alejandro Alonso. Cuba. 2016. 12min.
Yoan goes into the heart of the forest, entrusted by his mother, to build a wooden cross to pacify the beings that torment him. He can´t get to sleep because of the anguish caused by his father´s absence and the vision of spirits besieging him.
Limbo Rafael Ramírez. Cuba. 2016. 13min.
December Days (Días de diciembre) Carla Valdés León. Cuba. 2016. 45min.
The 7 December of 1989 in Cuba took place the Operation Tribute, where cubans mourned and given burial to the 2289 Cubans fallen in fulfilling its mission in Africa, and Angola' war. Oscar, Juana and her daughters, and Delfín and her parents were there too. In this documentary we asked them how survives in their memory that struggle?
25 hours (25 horas). Carlos Barba Salva. Cuba/USA. 2017. 25 min. (World Premiere)
Cuba 2014. Hilda is an emigrant who cares for her sick father in the Havana neighborhood of El Vedado. Her actions -and her disenchantment- makes us suppose a daily mimicry that crushes and saddens her, in a day that seems to last more than 24 hours. Her father got a purpose, but she has a longing. Everything happens on December 17, the historic date on which the reestablishment of diplomatic relations between Cuba and the United States is announced.
Ya no es antes (Not Like Before). Lester Hamlet. Cuba. 2016. 95min.
Esteban (Luis Alberto Garcia) and Mayra (Isabel Santos) haven't seen each other in 40 years. They were once madly in love but circumstances beyond their control separated them just as their romance was blooming: she left Cuba with her mother; he stayed behind, forbidden to speak her name because she was seen as traitor to the Revolution. She's back in Havana on a special assignment for her magazine. Can they pick up where they left off? Or will the void that grew between them be hard to overcome, especially given Mayra's erratic behavior?
Now. Eliecer Jiménez. 5 min. 
Para construir otra casa (To Build Another House).  Eliecer Jiménez. Cuba/USA. 15min. (World Premiere)
Nadie.  Miguel Coyula. Cuba. 2017. 70 min.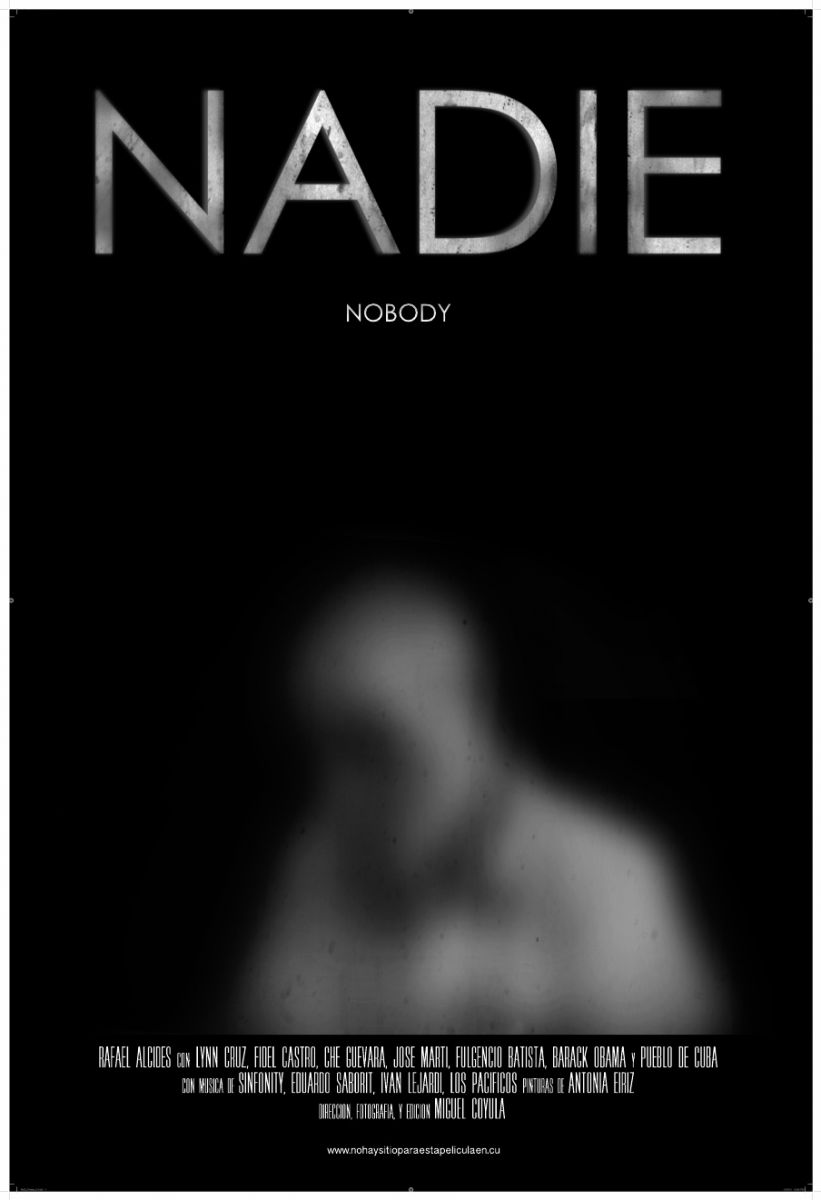 Film based on a series of interviews with Cuban poet Rafael Alcides.
Yerma. Emilio Barrachina. Spain. 2017. 90min.
For Eva Stone, married to a British politician of Spanish descent, a woman's life is meaningless if she is not a mother. And Eva has yet to become one. A Spanish theater company is in London to present a new production of Lorca's "Yerma"; Victor, its director, is an old friend of Eva's and her husband. Eva sees in Victor a new opportunity to become pregnant, even though having a child out of wedlock will be frowned upon, to say the least, by the social circles she moves in. Barrachina gives a fresh contemporary spin to Lorca's classic play about motherhood and tradition.
Amor con tufo a colonia. (Love with a Colonial Scent) (LGBTQ) Joelle G. Laguer. Puerto Rico. 64min.
The film uses Puerto Rico's colonial situation with the USA, the island's bankruptcy and breath-taking vistas as a backdrop to focus on the debate over gay marriage on the island.
God Willing, Yuli (Si Dios quiere, Yuli). Jean Jean. Dominican Republic/Haiti. 2016. 71min.
For Yuli, a Haitian woman living in the Dominican Republic for more than 35 years, it has been an ongoing struggle to raise her children with dignity as she deals with her precarious immigration status. In the midst of government regularisation, imminent deportation and personal upheaval, the questions arise: What really makes us belong to a place? How are the links between the land and its people made?  
The Animal´s Wife (La mujer del Animal).  Víctor Gaviria. Colombia. 2016. 116min.
Victor Gaviria ("Rodrigo D: No Futuro"), delivers another stark, relentless portrait of life in Medellin, made all the more realistic by his use of non- professional actors. Amparo is a teenage girl who, after some trouble in a boarding school, seeks refuge in her sister's house in a marginal neighborhood and is kidnapped and forced into marriage by the town's bully, her cousin Libardo. Pregnant with his child, Amparo discovers that Libardo has been keeping another woman locked up in his ranch and decides that enough is enough. Winner of the Best Director award at last year's International Festival of New Latin American Cinema in Havana.
Our Land (Namuy Nu Piro). Antonio Dorado. Colombia. 25 min.
A young member of the Misak nation is finishing university studies and returns home to say goodbye and to reflect on the ancestral customs.
Girls of Uchituu (Niñas de Uchituu). Helena Salguero. Colombia.  28 min.
La Guajira is the mystical desert where the life of the wayuu indigenous people goes by, next to the tensions between an ancient tradition and a way of living that "arijunas" call civilized. In the midst of the fine sand that bathes all, two wayyu girls linked by blood by their maternal line, have learned from the lack of sources of their homes, with the water leaking between their hands and the wood fire that heats their kitchens, but also from the necessity to meet that other foreign world that threatens to lead to oblivion the traditions of their ethnicity.
Mark´s Three Worlds (Tres mundos de Mark). Flora Pérez Garay. Puerto Rico. 2016.
When a fugitive takes refuge in a small town, it ignites the passion of a group of filmmakers who want to discover his real story and his past. In the process of wanting to bring Mark's story to the screen, they reveal more of him and each one of the protagonists than they were supposed to. This is a story of a criminal and of those that want to expose the effects of justice, love, and solidarity in the transformation of a human being.
All of us are stars (Todos somos estrellas). Patricia Wiesse Risso.  Perú. 2017. 78min.
Five years have passed since the death of his brother and Felipe's life is under a dark shroud.  He lives enclosed in his room amongst  somber memories and the ghost of his guilt. However, his paralysis goes much further back and is related to his filmmaking career, his production company going bankrupt, political disappointments, the total failure of his generation to stop the violence in his country, and his homosexual orientation.
O Caso J. (The Case of J.). José Filipe Costa. Portugal. 2017. 20 min.
A courtroom is a theatre and a death may be staged. Two policemen are accused in a court of law of the unlawful murder of J. J's mother is questioned by the police officers' defense attorney, to determine who her son was: was he really who he is said to have been?  Found beside his body is a gun and drugs.
Campo de Víboras .Cristèle Alves Meira. 2016, France, Portugal, 20 min.
In a small Portuguese village, a tragedy occurred. An old lady is found dead in her garden, surrounded by snakes, while her 40 year-old daughter, Lurdes, fled without telling anyone. The gossips in town about the mysterious destiny of this house are spreading fast…
Dominó. Eduardo del Llano. Cuba. 23min.
Olancho. Chris Valdés & Ted Griswold. Honduras. 2017. 70 min.
Manuel Chirinos is a farmer from a rural village in the mountains of Eastern Honduras. He aspires to be a musician but quickly realizes his only patrons are the powerful drug bosses who terrorize his region. When a song he writes angers a dangerous drug cartel, Manuel is forced to flee his home in Honduras to go to the United States. He finds himself miles away from his home, his family, and his music. From a radio cabin in North Carolina, Manuel recounts his narrow escape from death and describes the challenges of assimilating into a new world as an undocumented immigrant.
Sowing (Siembra). Angela Osorio. (Fiction) Colombia. 2015. 82min.
Such is Life in the Tropics (Sin muertos no hay carnaval).  Sebastián Cordero. (Fiction) Ecuador. 2016.
In Guayaquil, a wealthy young businessman is trying to evict 250 families who have been squatting on the land he inherited from his father. The dwellers' self-appointed representative, Lisandro Teran, promises to intercede on the businessman's behalf. Accidental deaths and legal machinations come into play in Sebastian Cordero's ("Pescador" "Cronicas") tense political thriller that is as concerned about the alliances that power such corruption as is it about keeping audiences at the edge of their seats. This was Ecuador's of cial entry to the Best Foreign Language Category at this year's Oscars®.
Days and Nights Between War and Peace (Días y noches entre guerra y paz). Uli Stelzner. Colombia/Germany/Guatemala. 2017. 75min.
A filmmaker travels to several corners of Colombia, searching for those who feel they premiere their own story. Peace is not a secret anymore and the endless night of the war comes to an end. The film steadily compiles the memory of so many deaths as well as the paradox of a war, as vivid in their present as it is absent of the future. The zero hour takes place on the 2nd of October 2016, when the peace process is momentarily stopped and uncertainty takes over the country. Nevertheless, it is that day when a new collective will is born in "almost everyone": the rejection of dead roads, sharing the risks that peace brings in itself and not giving the power to decide on the circumstances of life itself. Days and Nights between War and Peace is a portrait of crucial moments – impossible to give up, unforgettable – of Colombian History, across time.
 The Machine (La máquina). René David Reyes García. México. 2015. 4:02min.
Don Juan is a very funny inventor who lives with his young son Diego, who loves nature. After testing his latest machine for making cakes, Diego amazed to see the terrible consequences that his father´s invention causes to the environment and the waste it produces. Could Diego help solve the problem?
 Rise" by Nuf Said. Miguel Rueda.
Rabbit Movers, Special Cargo. Miguel Rueda
There are a lot of moving companies in this city, but there is only one company to call when you have an interdimensional situation. Rabbit Movers: Special Cargo…
La ballerine. Miguel Rueda
La Ballerine is an animated short that tells the story of two souls that by chance got together. The story is inspired by an urban legend of a ghost sighting at the Elizabeth Theater in New Jersey.
Vicenta. Carla Valencia Dávila. Ecuador. 2014.  5:15min.
Naranja. Hanna Isua Barrantes. Colombia.2017.  2:42min.
Andres Reads and Writes (Andrés lee i escribe). Daniel Peralta. Chile. 2016. 92 min.
Andrés Centeno is stuck in an existential rut. He works long night shifts in a factory and complements his income by occasionally playing different roles as a test subject for a local medical school. He has trouble sleeping and enjoys a rather satisfactory sexual relationship with actress Karina. How far can you go before you hit rock bottom? Andres will find out after he almost screws up medical student Dominga's chances of graduating and unearthing a box of photos, VHS tapes and other memorabilia from his mother's house.
Your Parents Will Come Back (Tus padres volverán).  Pablo Martínez Pessi. Uruguay. 2015. 81min.
In 1983 a group of 154 children aged 3 and 17 years old trav- eled alone from Europe to Montevideo. They were children of political exiles from Uruguay, who were unable to come back to their own country; they sent their kids to know their relatives and home country. That human sign, charged with a political message, took part in children's identity develop- ment. Nowadays, six of them still remember that day, when a crowd received them singing all together "your parents will come back".
Great Rivers of the Great Homeland (Ríos de la Patria Grande). Joaquín Polo. Argentina. 2016. 58min.
Ríos de la Patria Grande is a documentary about the figure of Humberto Ríos, who reviews the history of the New Latin American Cinema and that generation of filmmakers who considered cinema as an instrument for militancy and the liberation of the cultural domain.
In this way, the recovery of said history is proposed to open the dialogue about the present and the future of our cinematography. The planned route enables a space for reflection and action, in which memory could be rescued while our here and now is built. The historical base is presented as a platform for the reconfiguration of the cultural identity of our times.
The Fisherman (El pescador). Ana A. Alpízar. Cuba. 2016. 14 min.
Tomás, a humble Cuban fisherman, is having a harsh winter at the open sea. For the sake of his family and against all odds, he needs to capture a fish tonight.
Tilín tilín Cuba. Violena Ampudia. Cuba. 2016. 3min.
Two girls play innocently to be adults, imitating their mother's behavior.  
An Instant (Un instante) Marta María Borrás. Cuba. 2016. 15min.
Two women live opposite each other in the buildings of a working-class community. They are alone and want to have, even for an instant, a different life, exciting, far from there. Would it be possible?
The Half of this Story(De esta historia la mitad). Cuba. Deymi D'Atri. 21 min.
Eyes Half Shut. Deymi D'Atri. Cuba. 28 min.
In a traditionally macho society, Cuban cinematography vetoes women access to photographic direction, because they are considered incapable of exercising it fully. This is a documentary that denounces, but also demands.
Against the Wind (En contra del viento). Lenia Sainiut. Cuba. 27 min.
A woman is challenged by her own reality, but every day she lives becomes a gift. She overcomes fear and tiredness riding a "chivichana", a home-made vehicle. She turns weakness into strength and travels through life and through the road facing the wind.
Nadie nos mira (Nobody is Watching). (LGBTQ) Julia Solomonoff.  Argentina/USA. 2017. 102min 
Dissatisfied with a complicated relationship, an actor in Buenos Aires moves to New York City for a promised lm role and a new start. When the project stalls he chooses menial work rather than give up on his acting dreams, a decision that puts him on the level of any other struggling undocumented immigrants, despite his whiteness and connections to the privileged. When he loses the trust of a generous friend, his life unravels, ultimately leading him to reconcile his imperfect situation back home with the harsh reality of an uncertain future in the U.S.